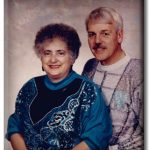 It all began with Grandfather Peter Blankenheim in the mid 1940s, and his friendship with Joe Wilde, Sr. The two men met while working at The Convertible Door Co. in Milwaukee–a millwork shop that produced entry doors, folding doors, and swing-out garage doors. From there, they moved on to work with Crawford Overhead Garage Door Co., and began learning about garage door servicing and installation.
In the mid 50s, Peter and Joe formed a partnership by opening a Crawford Garage Door franchise together, which eventually became The Joe Wilde Co. In 1956, they moved to a location at 84th and Greenfield Avenue in West Allis, where they served the greater Milwaukee area for many years.
As the old saying goes, apples do not fall far from the tree, and so it was that Peter's son Ray Blankenheim joined The Joe Wilde Co., as did his friend Don Wilde–Joe's son. Eventually the sons found their niche as salesmen.
In 1976, Peter retired from the Joe Wilde Co., and it was at this point that Ray decided it was time to expand his world and start his very own garage door business. With the help of his father, Bishop Door Sales Co. opened their doors that fall, in the New Berlin Industrial Park. They specialized in the sales and service of residential and commercial garage doors and door openers. First to join the team were his wife Jo and daughter Karen.
In 1977, Ray's son Robert came on board as a serviceman and installer–the role he fulfills to this day.
In 1981, Ray relocated Bishop Door Sales to "beautiful downtown Waukesha," as he lovingly called it.
In the mid 80s, Robert's younger brother Brian joined the business as a serviceman and installer.
During his time as a small business owner in the garage door industry, Ray served as president for the Door and Operator Dealers Assoc. (DODA) and the Master Builders Assoc. He was also a member of the Knights of Columbus.
After Ray's death in 1996, his children Robert, Brian and Karen continued to operate the business with pride and dedication in the four county area that is Waukesha, Washington, Dodge and Milwaukee. Now as Brother's Garage Door Sales and Service LLC., we look forward to serving all of your garage door needs now and in the future.